Many people have had to work away from the office in the wake of the COVID-19 pandemic, and the implications are clearly huge. From traffic to child care and even the very nature of employment itself, there's a lot to consider when the world leaves the office en masse. But as a company that is already globally dispersed, we wondered: How is remote work going for everyone who's new to it?
Hoping to find answers as to how the average American employee has adjusted – and to offer our own advice to those adjusting to it – we surveyed over 1,000 people across the country who were actively employed during the height of the coronavirus pandemic. The many people who switched to working from home (parents and non), as well as their managers, weighed in to let us know how everything from efficiency to communication and creativity was impacted. We asked about the problems they faced and the perks they enjoyed. Did they ultimately want to continue working this way? Keep reading to see what we found.
Rating the Remote Transition
March of 2020 will likely be a month we remember well, reflected only partially by the fact that unparalleled numbers of workers in the U.S. have gone remote due to COVID-19. For the first time, many of these individuals are learning how to work among their families, their roommates, or just without co-workers nearby. In adapting to working from home, there's also the new schedule, home distractions, and balancing of other domestic roles to think about, not to mention the lack of modern convenience with a world on pause.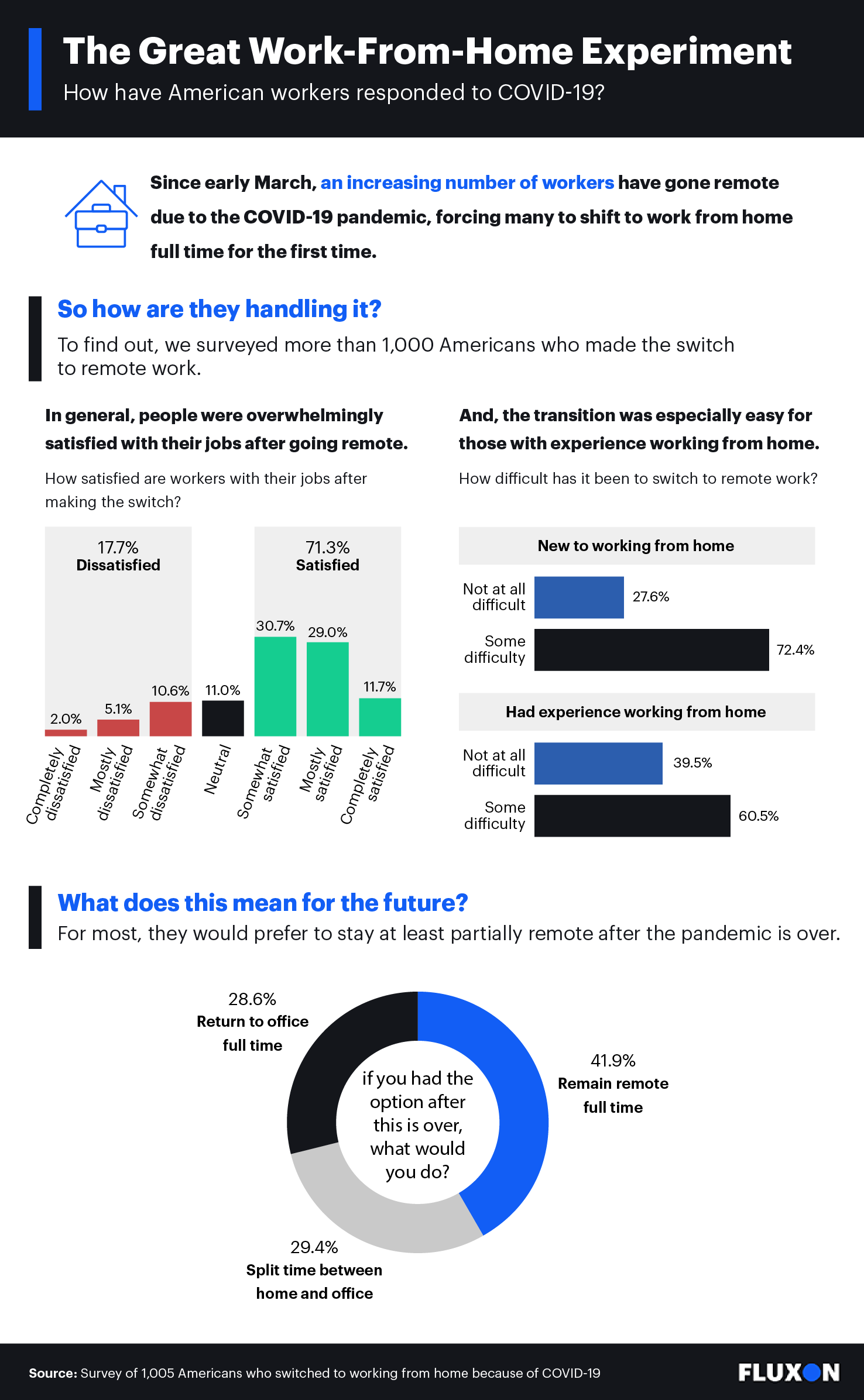 In spite of the many differences between their newly remote life and the former on-site employment, things were actually going relatively well. In general, people were overwhelmingly satisfied with their jobs after going remote and wanted to continue working remotely even after it's no longer necessary. With regards to the transition specifically, 72.4% of workers who were new to working from home said they experienced some difficulty.  Things were even easier for those with even a little bit of experience working remotely, with only 60.5% reporting difficulty.
At Fluxon, we've built a culture around global work. Though our company was founded in San Francisco, we hire and manage top tech talent from around the world without one central location. We believe that tech skills do not know boundaries, and dispersed work can create huge opportunities for an organization. Given our data showed that people who had experience working from home had an easier transition to the shift, we wanted to share some guidance that will help those struggling to adjust.
Difficulties of Remote Work
In the wake of COVID-19, we assumed there would be some challenges with the transition to remote work, especially one happening on such a massive scale. Previous studies have shown that remote employees actually work more productively than their on-site counterparts, but it's important to note these sample groups also answered from a pre-coronavirus world. Life is fairly more distracting these days.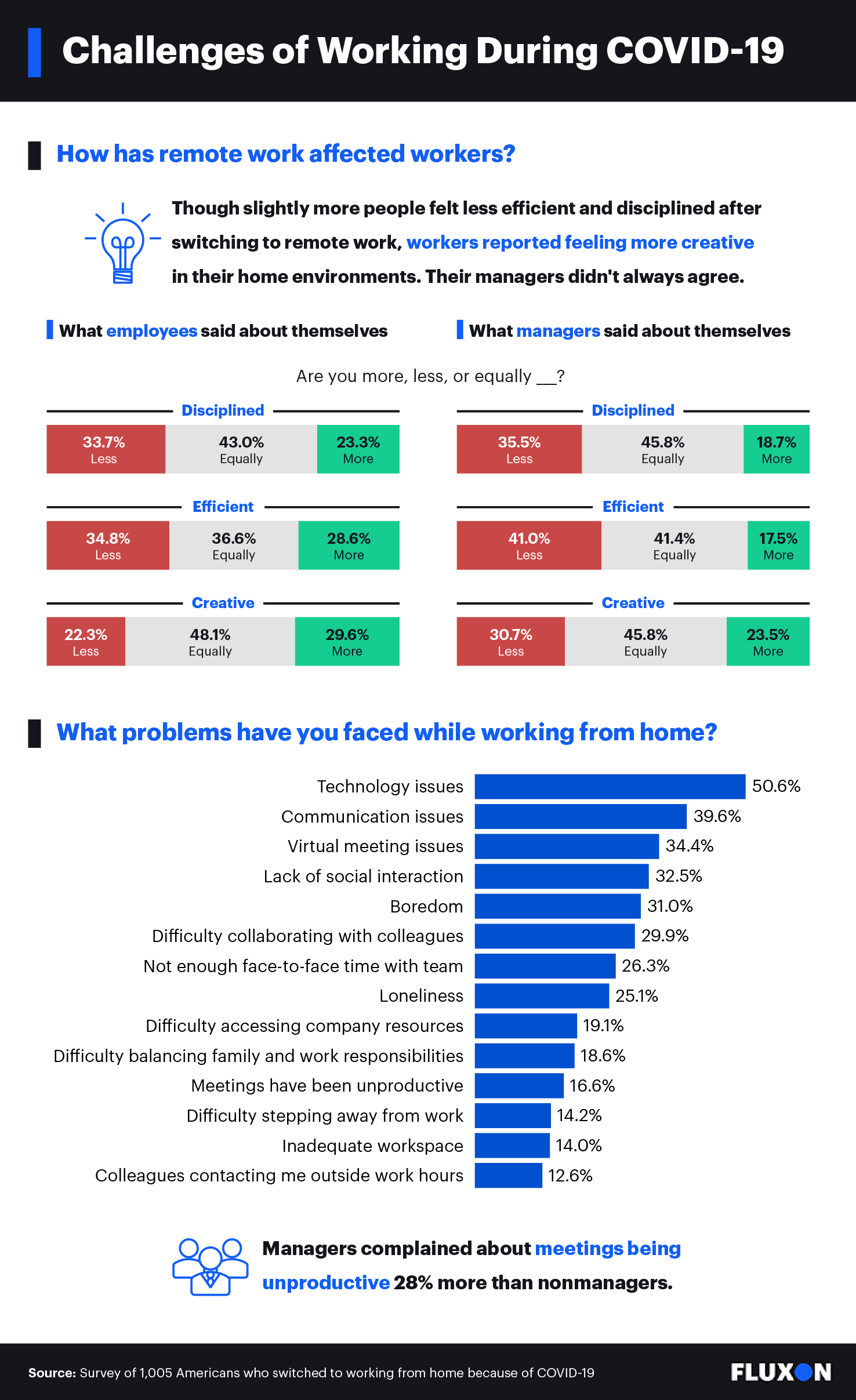 Most often, employees who struggled shared a difficulty in maintaining efficiency and discipline in their new work environment. In spite of it all, many employees said their creativity improved at home, while 28.6% said their efficiency had actually gotten better already. Unfortunately, their managers were less likely to notice these improvements. Mostly, they found their employees equally as disciplined, creative, and efficient as they had been previously, though slightly more said their employees were worse at home than better.
Technology was the most common frustration by far: It was the only problem to be experienced by more than half of participants. Communication and virtual meeting issues also came up for 39.6% and 34.4%, respectively, but it was managers who really found the most frustration here. They were 28% more likely to complain about virtual meetings being unproductive.
At Fluxon, we understand a lot of these concerns and have worked through most of them ourselves. In fact, we were so frustrated with ineffective meetings, we created Dory.app: a free meeting tool for businesses to create and vote on agendas, ask questions, and more. Rather than the most vocal or first to arrive setting the agenda, Dory allows teams to vote on and prioritize important topics and questions for meetings, making meetings more focused on goals everyone cares about.
With most of these challenges, we believe one thing: The tools that make you a great worker will translate to remote work. In fact, there's not a big difference between a great "in-office" worker vs. a great "remote" worker – we believe there are just good workers. That's not to say working remotely is not a skill, but by focusing on the things that make you a great worker, communication, open-mindedness, focus, and practice, we believe it's easier to become a great remote worker. Some tips for achieving this are as follows:
Communicate often. When you're dispersed, everyone needs to be transparent and apprised of what the team is working on. At Fluxon, everyone knows what everyone is doing, and each day, every member of our team gives an update on their progress via Slack. This keeps people engaged and accountable.
Understand when work needs to be done synchronously (at the same time) vs. asynchronously (at different times). There are major advantages to both types of work, but we've found asynchronous work to lend better to creativity and thoughtfulness.
Practice makes perfect. We believe working remotely is a skill, and you need to train yourself to it. This will come with time, but making task lists, setting daily agendas, and communicating with your team more can create personal accountability that will build discipline and efficiency.
Remote Manager Mindsets
Yes, managers may have experienced frustration in their office's transition to remote work, but only 13.6% said it was "very" or "extremely" difficult to manage. Instead, 16.3% found it "not at all difficult," and 37.5% said the challenges were only slight. And when the challenges did surface, many were able to handle it successfully. For instance, 38.3% of managers told us they had experienced a performance issue with personnel thus far, but nearly 3 in 4 said the issue had been addressed and handled.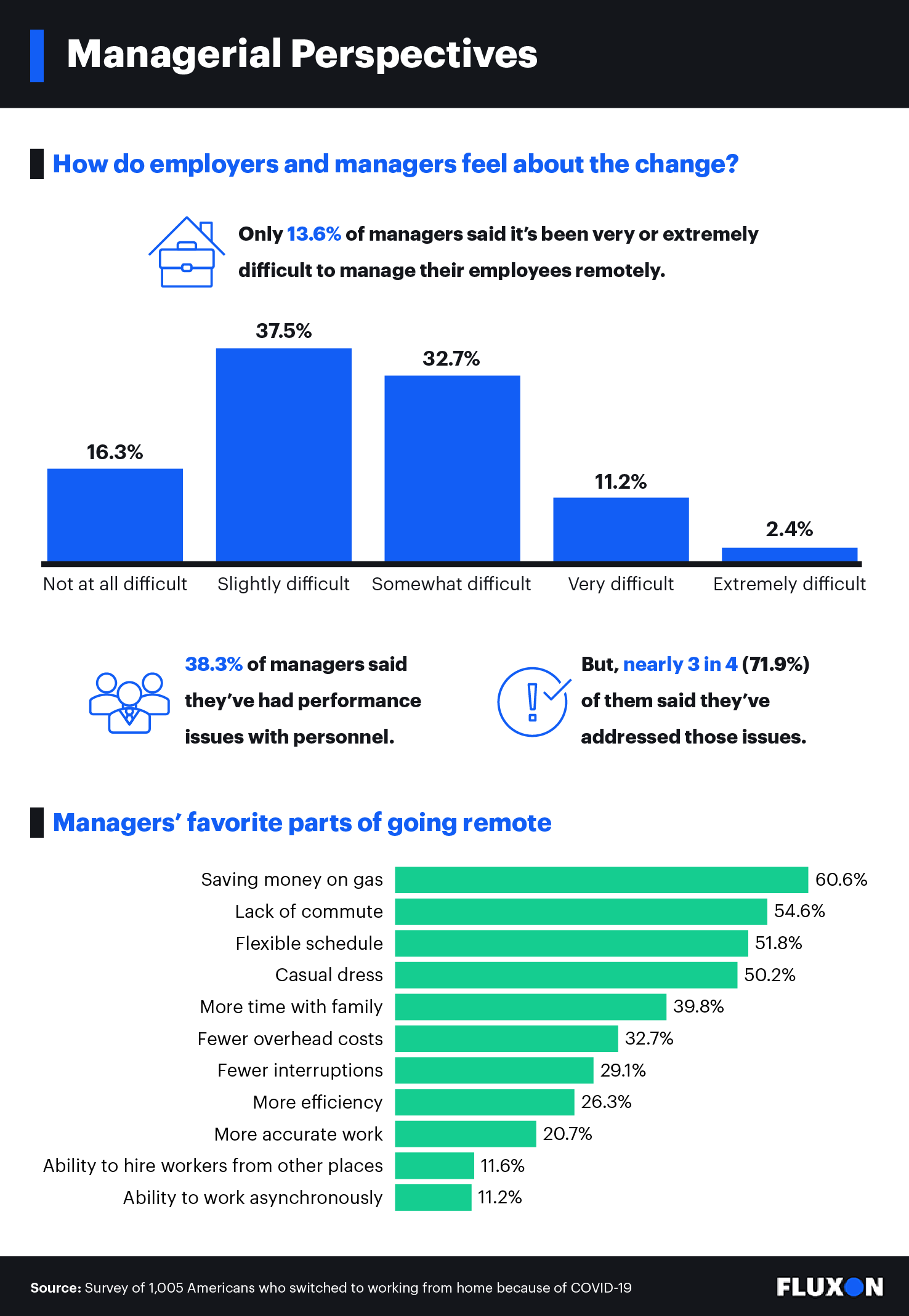 We also asked the managers to share their favorite aspects of working remotely. The top two focused on the commute: 60.6% were enjoying all the money they're saving on gas, while 54.6% enjoyed the lack of commute altogether. Their continuing list of favorites certainly reaffirmed our own affinity for the lifestyle: They mentioned things like flexible schedules, casual dress, fewer overhead costs, and more time with family. What's not to like about that?
That said, we recognize the additional challenges that managers must take on in order to lead a team through these unprecedented times. We want to share the following advice:
Be sympathetic to what others are going through. Oftentimes, people carry their troubles into work, and it's important to understand that. This is even more difficult to read while working from afar, so keeping in contact with your team, checking in individually, and remaining transparent with them is crucial.
Set expectations, and communicate them clearly. If you expect something from an employee, they need to know about it. Make sure you've communicated your needs to your team clearly, and people will be less confused about what their roles are, especially when you may have some organizational confusion given recent shifts.
Lead by example. Especially in what might be a difficult time in your industry, help your team navigate through uncertainties by focusing on what is within your control and the ultimate goal. A team that can survive troubling times together is a team that will come out stronger and better.  
Children as Co-Workers
Parents are currently working what NPR called "triple duty": working, parenting, and teaching. In addition to having more than eight hours a day of work, our study found that parents were spending an additional 2.6 hours every single day to help their children learn, for they too are remote. One in five parents actually reported spending more than five hours each day on this – almost doubling the length of a typical workday.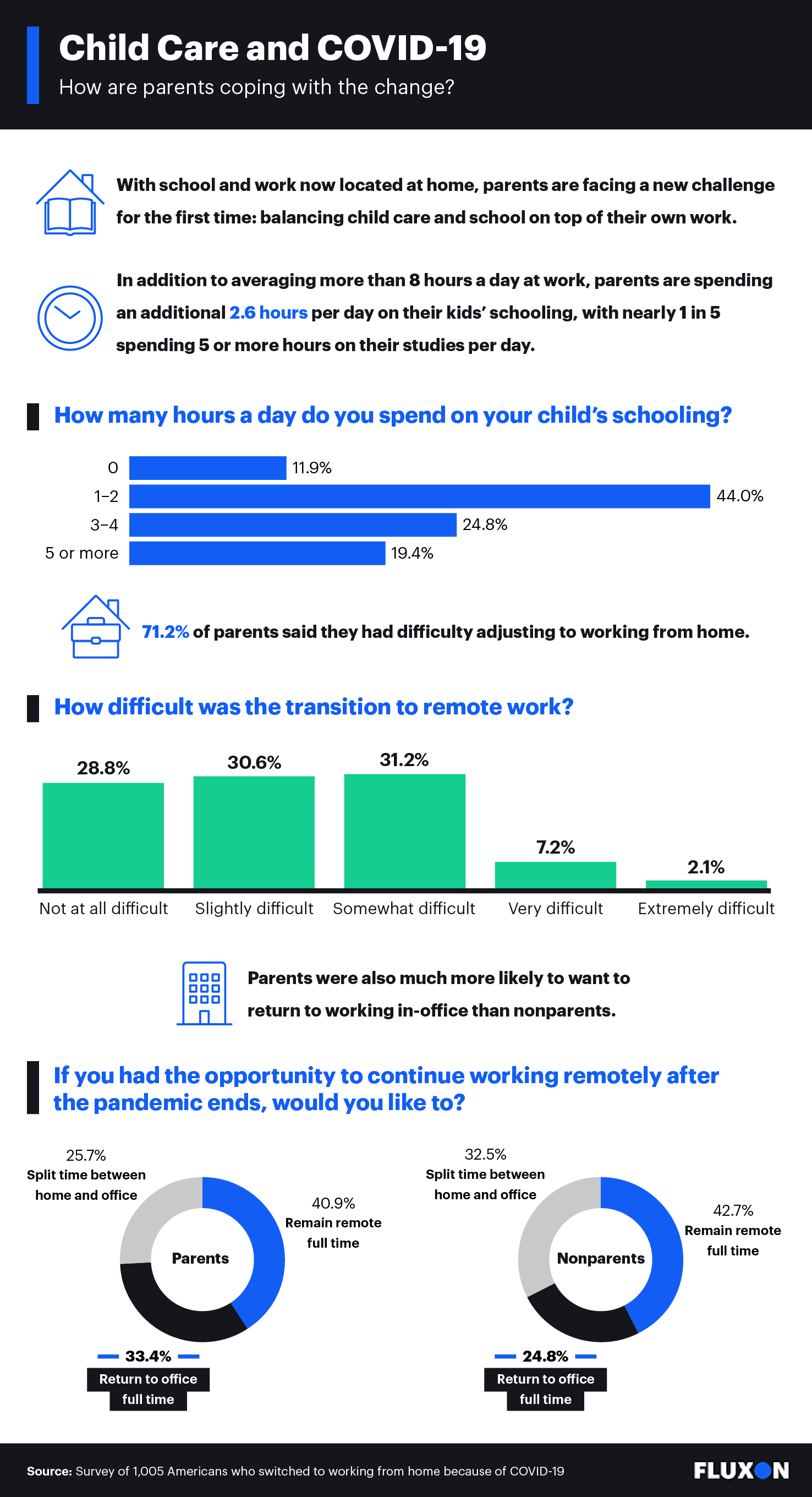 Of course, these challenges didn't go by unnoticed. Parents were much more likely than nonparents to say the transition to remote life was difficult. Bearing in mind that respondents of all parental statuses experienced difficulty with efficiency in the transition, it's easy to see why parents may have a harder time in this regard. A quick distraction from a child (or any distraction for that matter) typically requires an additional 23 minutes to regain focus once it's lost. These difficulties added up, and at this point in time, more than a third of parents were hoping to return to the office full time someday.
Rallying Remote Employees
Remote work may not be a choice right now, but it could likely be for many in the future. We saw some respondents already gaining efficiency and creativity, even in the initial shock of the virus, while managers have been successfully handling the relatively few issues that have come up. Overall, people liked the experience and wanted to continue it even after the all-clear to resume in-office work.
And while the world will certainly see more remote work, we've built our business on hiring and managing an amazing global team with first-class engineers. At Fluxon, tech and software is built into our blood, and we use the knowledge to help build products for you and your team to work more efficiently. Some of the most challenging problems can be solved by our international team, so if you think a custom-made product could help your team out, head to our site to start exploring your options today.
Methodology and Limitations
To compile the data shown above, we surveyed 1,005 full-time American workers who shifted from in-office to remote work in 2020. Of these, 251 were managers responsible for making personnel decisions, while 754 were not. 464 of our respondents were working parents of children under the age of 18 currently living at home. Because this is a survey, it's susceptible to the biases of any survey, and is based solely on the self-reported opinions (and potential biases) of those surveyed.
Fair Use Statement
Know someone who could benefit from some work-from-home tips? We encourage you to share any of the information above so long as it's for noncommercial use. We ask only that when you do, you link to our study.