Fluxon is fueled by one obsessive focus: Our clients' success is at the heart of all we do.
Our commitment extends beyond short term goals: Our main goal is  to see them succeed strategically and sustainably. We care deeply about the companies we serve and believe in their transformative potential.
Accordingly, we don't settle for the typical "client relationship." We treat our clients as our own co-founders and do everything we can to help them succeed. We believe that we will only be successful when our clients are successful.
Our vision of partnership informs every aspect of our work.
Providing Partnership: Key Contrasts
For our team, real partnership is the product of specific principles – and the implementation of these ideals in every aspect of our work. These foundational principles define Fluxon's approach to collaboration with clients, elevating our relationships from transactional engagements to true partnerships.
Shared Strategy – at Any Stage
Many companies seek outside partners only after identifying key obstacles and objectives. They conceptualize problems and solutions internally, then look for a technical team to translate their vision to reality.
This approach is common across industries, and our team can certainly excel in executing a well-defined set of strategic priorities. For times when pain points are clear but solutions are not, we help by understanding the root causes behind problems, and finding solutions to eliminate them.
Which technical solutions are even feasible? What are the challenges associated with each  possible approach? Are these solutions under consideration truly scalable? Before they can direct outside developers, many companies need additional expertise to find the right questions to ask from a technical team, evaluate responses, and determine how to proceed.
Without expert guidance, companies often choose problematic paths forward, unaware of the pitfalls that await. Worse yet, their development partners do little to warn them: Whether or not the plan is deeply flawed, they'll get paid to perform the work. In this sense, projects can get off track before they even begin, though shortcomings only emerge when it's too late to correct them.
In contrast to this status quo, Fluxon envisions its client relationships as real strategic partnerships. Our team is ready to engage with yours at any stage – even if you're just beginning to conceptualize your goals. In fact, we're most valuable to our partners when we can be part of your project's planning stages, bringing our expertise to your internal discussions.
Often, innovators have transformative ideas but need a technical partner to evaluate feasibility. Our team can help you consider your various options, incorporating your immediate goals and long term plans for growth.
Have a wide array of challenges and don't know where to start? Our experts can assist you in strategic prioritization, developing an efficient path to progress. Similarly, we can help you maximize the resources at your disposal, solving problems quickly and cost-effectively.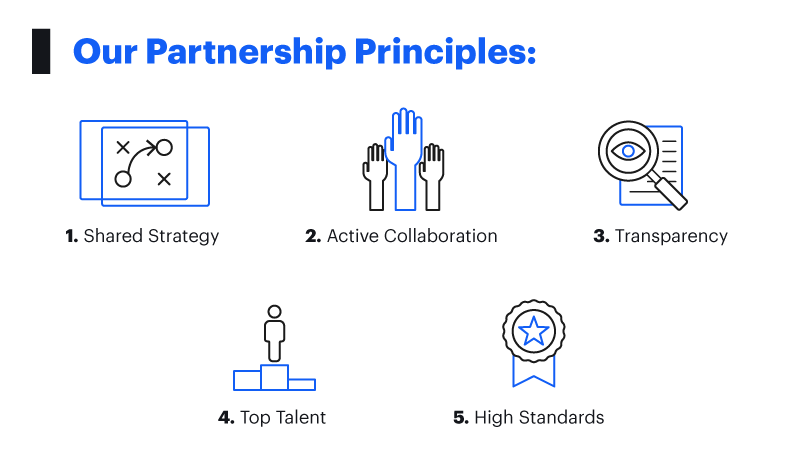 The key to successful partnership is shared strategy. We help our clients by understanding their short-term and long-term goals, and achieving solutions that reflect them. We don't settle for merely meeting the minimum requirements, or take a narrow view of what success could mean.
However we can serve your business's best interests, we'll provide the expertise and execution to be your true partner. We'll take the time to understand your vision, and never miss the forest for the trees.
Comprehensive Collaboration
Some development teams want "hands-off" clients: Until it's time to deliver, they rarely interact with the team that hired them. Our approach couldn't be more different: Active collaboration is a crucial component of our work, while respecting internal structure and processes.
At Fluxon, we value open dialogue with our client's team. From founders to executives, designers to developers, we solicit guidance from the people who make our partnerships stronger.
We then pair their perspectives with our technical abilities, realizing a product that meets the hopes and needs of our clients' teams. Their experience is invaluable, and their investment is essential.
In that spirit, we open lines of communication between our client's team and our own. Your team has direct access to our staff, and you can reach out to them on matters large and small. When you need answers, you talk directly to the experts performing the work.
Our discussions with clients aren't limited to conference calls or the occasional email: You know who your partners are and exactly how to reach them.
Trust Means Transparency
Too often, development engagements are defined by uncertainty: As the work proceeds, the client can't tell where it stands. Sure, clients can receive updates, but there's little real-time accountability on what's really taking place.
At Fluxon, we believe that this dynamic makes developing trust more difficult. We want to be exactly as transparent as our clients' internal teams – if not more so.
We're proud of the pace and quality of our work, and we hope you'll check in often to see our progress. If challenges arise, we can discuss and adjust quickly, rather than waiting for feedback way down the line.
Accordingly, we break down barriers between your team and ours, so you're constantly informed and connected. You'll be able to see the mechanics of our development process, just as if we were part of one company. We want to earn your trust as a true partner, so we value the opportunity to be as open as possible.
A Top-Tier Team
In terms of serving our clients as partners, no decision matters more than the experts we choose to join our team. Because our clients mean so much to us, we recruit only the very best technical talent from around the world, giving our clients access to a workforce that is diverse and deeply skilled. We recruit for our team to be great, so that your team can be great.
As Ex-Googlers, Fluxon's leaders know how to find and support top-tier talent. While our team members excel in distinct areas of coding and product development, they all bring impressive experience to their roles.
Perhaps even more importantly, the people we bring onboard share our philosophy about the importance of partnership. We choose to work with like-minded individuals who value the chance to engage meaningfully with our clients. No matter how impeccable their credentials may be, all of our team is committed to helping our clients succeed through active collaboration. And above all else, our engineers care about solving critical needs and business results.
Surpassing the Standard
We've pulled all-nighters and worked through weekends. We've spent hours not just working on our client's problems but collaborating on the solutions together.
We're passionate about making things work, we'll go above and beyond to find solutions for our partners. Even if we incur added costs or log extra, unpaid hours, we'll do what it takes to help our clients succeed.

Allied and Aligned: How We Connect With Our Clients
Because our vision of partnership is rooted in these principles, we think critically about translating our broad values into pragmatic practices. After all, lofty ideals are well and good, but our client relationships thrive on concrete action.
Accordingly, we relate to our clients in ways that other companies do not, rejecting the status quo for development services. We don't just talk a good game: In ways both large and small, our values and expertise show up in every aspect of our work.
Communication: Consistency and Clarity
Communication is the lifeblood of any real partnership, but it all too often gets neglected at other companies. Fluxon understands that no matter how well our work is going, our partners deserve timely and accurate updates. This consistent communication keeps everyone focused on shared priorities and creates greater confidence in the work underway.
What does communication with our team look like on a daily basis? As we work for our partners, we maintain these channels for updates, feedback, and coordination:
A shared Slack channel that allows our teams to interact in real time. At the end of each day, we provide an update summarizing our progress and identifying next steps.
A weekly demo of our progress, allowing our clients to see exactly where their product stands. As functionality emerges and improves, we continuously incorporate client feedback.
A weekly summary report of all the work done that week and tasks to be tackled in the week ahead. This report helpfully contextualizes our work in light of the engagement's broader goals.
Our Expertise, Your Opportunity
From our perspective, this knowledge sharing is essential to our working relationship: When you understand how and why we've made technical choices, you can be more successful in the long run.
We want our clients to have the information necessary to plan strategically and to participate in that process however we can. We're happy to break down complex technical challenges, allowing our teams to devise creative solutions collaboratively.
Honoring Honesty
Without real trust, no partnership can achieve its true potential. Accordingly, Fluxon is totally committed to dealing honestly with our clients, even, and especially, when that means telling hard truths.

We'll never try to gain clients with false optimism, or minimize the challenges they'll face in developing a great product. When our opinions differ from those of a client's team, we'll respectfully and openly discuss those differences. If we have doubts about some aspects of their approach, we feel it's only right to share our concerns transparently.
Shading the truth is never what's best for our clients or our business. Straightforward discussion beats smoke and mirrors any day.
This principle extends to specific details of our engagement: Our commitment is to be clear with our clients about pricing, deadlines, and delays. We keep them constantly updated, so they never have to worry about unpleasant surprises. Even when things don't go perfectly as planned, we grow trust with our partners by keeping everyone on the same page.
Relationships Drive Results
Fluxon's way of doing business is to be laser-focused on successful business outcomes while doing the right thing for all involved. That being said, the way we work has tangible business benefits that quickly become apparent to our partners.
Our client relationships produce exceptional results, which further fuel our partnerships. Our process entails several distinct advantages in both the near and long term.
From Expectations to Execution
Think about the power of a great brainstorming session: When diverse perspectives collide in a shared creative process, new options become apparent. That's precisely the dynamic we strive to achieve in our partnerships. Because we keep lines of communication open and transparent, everyone is empowered to aim higher.
Product and Process
Many of our clients are in intensely competitive industries, requiring new products or features on a nearly constant basis. If you want to surpass your competitors, you don't have time to repeatedly start from scratch. Rather, you need to maximize your institutional knowledge, refining your processes with each new product.
Fluxon is the partner you need to continuously integrate new learnings, focusing on the process and end result simultaneously. As we work with our clients, we shape our approach to suit their specific needs. Over time, we optimize the efficiency and effectiveness of our collaboration, giving our clients an edge over the competition – and cutting costs in the process.
Scale with Success
If a solution isn't built to scale up as your business grows, it's not much of a solution at all. Whereas some development companies happily complete projects that will soon become irrelevant, Fluxon keeps your long-term potential in mind.
By understanding how a product or feature contributes to your broader business, we can anticipate the needs you'll soon confront. As your true strategic partner, we're interested in solutions built for the long haul. Our work will support your growth, not stand in the way of it.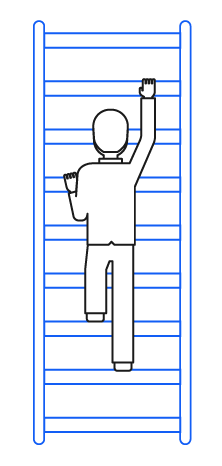 Avoid Obstacles in Advance
You don't have to learn every lesson the hard way. Our team helps clients see potential challenges well in advance so that they can avoid them or pursue appropriate solutions. This guidance stems from our expertise, but also from our commitment to our clients.
We don't want to see our partners struggle with problems that we could have predicted. For us, honesty is about holistic concern for the people we serve, not just the details of one particular project.
Partnership Potential: Our Team and Yours
The principles and practices we've outlined here inform our singular approach to service. But precisely because we care deeply about our client relationships, no two engagements are exactly alike. We customize our approach to match each client's needs, building uniquely effective partnerships.
Could your company benefit from partnering with us? We'd love to understand your mission, aspirations, and obstacles, and explore how our teams might succeed together. Our dialogue can be open-ended and honest, setting the tone for any engagement to come. At the very least, we'd love the opportunity to suggest some solutions tailored to your goals.
Reach out today to strike up a conversation, and learn how we can help. We hope to hear from you soon and look forward to exploring the possibility of a true partnership.